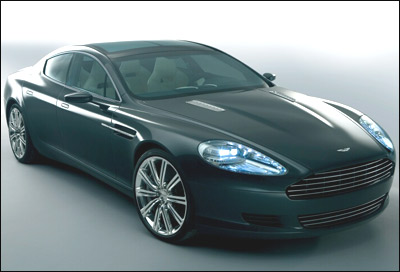 Aston Martin has hinted at adding a svelte looking four door sedan to its three-strong line-up of contemporary coupes with its new Rapide.
Unveiled at the 2006 Detroit motor show, the low slung concept lays the foundations for the revitalized British car maker to take on proposed upmarket offerings such as the upcoming Porsche Panamera and today's Maserati Quattroporte with an elegant 350kW 6.0-litre V12-powered four seater that harks back to some of Aston Martin's most significant models, including the 1961 DB4-based Lagonda Rapide from which the concept is clearly inspired and takes its name.
Closely related to the DB9, both in looks and mechanical make-up, the primary appeal of the Rapide is its full-sized rear doors, four-seat interior layout and generously sized boot. They combine to provide it with far greater levels of versatility and every day practicality than any of Aston Martin's existing two door models, while at the same time offering all the visual excitement, typical British interior craftsmanship and core sporting values of its coupe siblings.
The brainchild of chairman, Ulrich Bez, the front-engined/rear-wheel-drive Rapide is regarded as a crucial component in increasing Aston Martin worldwide sales in future years without the need for the costly investment that usually comes with the development of new models thanks to the adoption of flexible manufacturing techniques that have already seen the company produce its three current models - the V8 Vantage, DB9 and Vanquish - off the same basic monocoque structure.
"The Rapide is adding value to the DB9. It's a performance car for every occasion," says a defiant Bez.
Crucial among the priorities laid out by Bez during the initial development phase was the Rapide's styling. "The proportions must be perfect," he says, "if we couldn't achieve this then we wouldn't have made the car."
Despite the four-door design and a clear emphasis on accessibility to the rear quarters, Aston Martin is quick to suggest the Rapide will live up buyers expectations as a sports car. "A sports car is not simply characterized by the number of doors," says Bez, "so a four door car can still have the performance of a traditional Aston Martin sports car."
Visit Drive's Detroit motor show feature page for all the latest from the show.